The MAPS Analytical Framework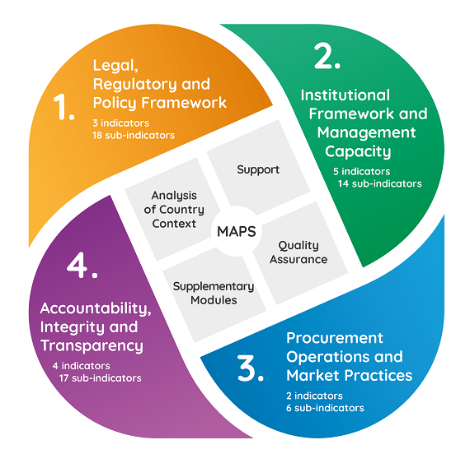 Elements of the MAPS

MAPS consists of the following elements:
a user's guide with instructions on how to conduct a MAPS assessment
instructions on how to analyse the country context
the indicator framework in four thematic pillars (each pillar includes indicators, sub-indicators - qualitative and quantitative - and assessment criteria):
A glossary to ensure clarity of the indicator framework and assessments
A suite of supplementary modules that allow a focused analysis of specific areas
Support tools, such as templates, that can provide support in conducting a MAPS assessment (see below)
Who can do a MAPS assessment?
The MAPS methodology is open and can be used by anyone.
MAPS assessments can be done by all countries – both as a self-assessment or with the help of external partners.
Assessors must have extensive knowledge and experience in public procurement, be free of conflicts of interest and carry out objective and impartial work.
If countries would like to receive a certification, assessments have to follow a set of rules and a quality standard, verified by the MAPS Secretariat.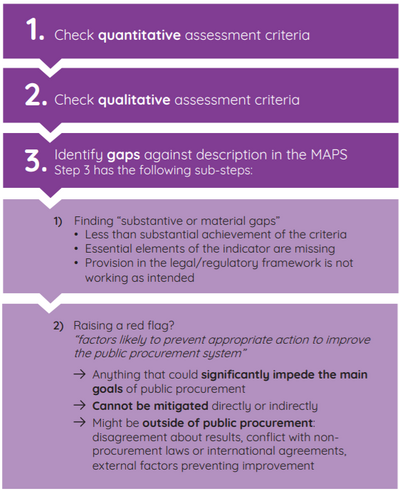 Assessment step by step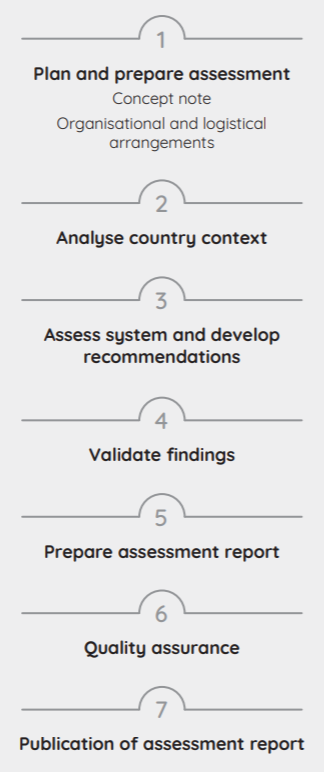 The documents in this page are published under the responsibility of the MAPS Secretariat. The opinions expressed and arguments employed herein do not necessarily reflect the official views of the OECD or of its Members.